Schedule:
Summer 2021 Schedule is live. As with any schedule, it is subject to change.
Art:
We have tabletop space for art, and artists are welcome to bring easels, gridwall, or other vertical displays. Sales encouraged!
Vendors:
aka Wallet Emptying Services:
VENDING SPACE IS STILL AVAILABLE. Attendance is small but dedicated. Our returning vendors have been quite pleased with the response.
GAMING
Gaming will be ad-hoc but space is available and set aside in the main areas for the purpose.
Authors:
Brena Bock
Marina Fontaine
Amie Gibbons
Rob Howell
Stephanie Osborn
Rob Reed
Jessica Schlenker
Lydia Sherrer
Wendy Teller
Mark Wandrey
Rich Weyand
Michael Z. Williamson
Editors
Toni Weisskopf
Michael Z. Williamson
Rob Howell
Jessica Schlenker
Scientists
Stephanie Osborn
Jessica Schlenker
Memberships:
As of April 1, 2021, memberships are $45 per attendee, and kids under 8 are free.
Memberships can be ordered below, with the T-shirt orders, or by using the Contact Page for payment information.
Room information:
HOTEL: COURTYARD MARRIOTT
Address: 1980 Providence Pkwy, Mount Juliet, TN 37122-6494
Phone: +1 844 631 0595
Block name:  Summer SciFi Con.
Rooms are $119 for two queens or king and sofa. 
The hotel is currently sold out. Please use the Contact page to be placed on the waiting list for cancellations. We recommend making other arrangements at this time.
Vendors:
Tables in the Vendor area are available for $40 per table. Please contact convention leadership using the Contact page.
AKA: Why this weekend, again? 
The Emergency Holographic Convention came about this time last year, when a favorite convention found themselves being unable to go on due to the hosting city's lockdown measures. However, for some of us, the show must go on — business never stops. EHC was an emergency stopgap to fulfill some of the necessary business which would normally be attended to over that duration.
We hoped another one would not be needed ever again.
Sadly, that has not been the case, and the favorite summer convention has again found themselves unable to host in person.
Accordingly, we are hosting another summer convention. 
They are, however, "going virtual" this summer, and we have reached an agreement to work on hosting a few combined virtual panels.
To enable this, we are hosting our convention over their weekend, with their permission / blessing, to better enable those who would like to attend an in-person event.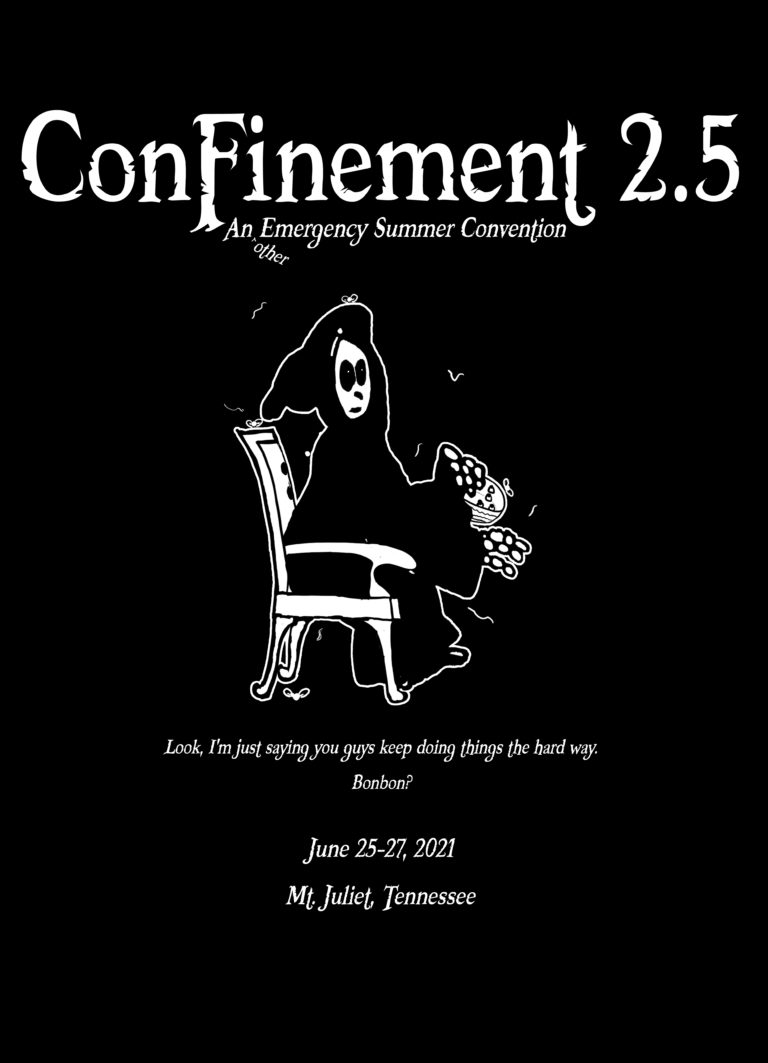 Membership / Registration
The "Add to cart" buttons will open another page. Just return to this one to continue adding to the cart before checking out.  
At this point, T-shirt pre-ordering is closed. A very limited number of additional T-shirts will be available in popular sizes. These will have to be purchased on-site. 
Hotel Info: 
The hotel is currently completely booked. Please use the contact page to communicate with convention leadership to be placed on the waiting list. We recommend making other arrangements due to the closeness to the event.